A statement issued on Aquilini's behalf said that he categorically denies and is "outraged" by the accusations made by his ex-wife in family court that he has ever abused his kids.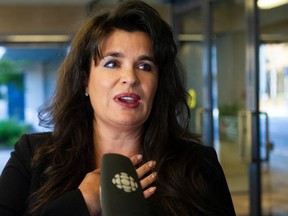 Article content
Three of Francesco Aquilini's children, all of whom are now adults, have levelled "serious" allegations that he abused them when they were younger, a lawyer for the Vancouver Canucks chairman and governor's former wife told a judge Tuesday.
Article content
The allegations were made in the context of an application by Tali'ah Aquilini, who divorced her husband in 2013, to have the three children, all of whom she says are attending university full-time, continue to be declared to be children of the marriage for the purpose of child support payments.
Article content
Claire Hunter, a lawyer for Tali'ah Aquilini, told B.C. Supreme Court Justice Karen Douglas that the children no longer wish to have any contact with their father and felt "fear and anxiety" about the possibility of him contacting them.
She said that Francesco Aquilini had provided child support up until September 2021, but then stopped payments.
The parties were having a dispute over information about the children's university education being withheld from him. For example, the names of their universities have not been disclosed since 2018, said Hunter.
Article content
The children expressed a desire not to disclose their information so that they could not be contacted by their dad, said Hunter.
According to Hunter, one of the children is 24 years old and is pursuing a master's degree abroad.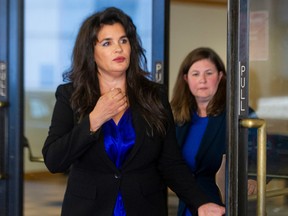 A second child, now 22 years old, is completing a bachelor's degree in mechanical engineering. The third child, now 20 years old, is in medical school with aspirations to become a surgeon.
All three kids live with their mom, who has custody of them. They stay with her during school breaks and during holidays.
Outside court on Tuesday, Tali'ah Aquilini gave a brief statement to reporters.
"It's really disappointing that I have to keep coming back to court in order to try to enforce Francesco's obligation to pay child support for the children," she said.
Article content
"These are really amazing children. They are very intelligent, they are of good character and they've worked hard in really vigorous programs."
She added: "They've worked really hard to overcome the damage he"s inflicted upon them already."
In court, Hunter referred to affidavits provided by the three children and a fourth, older child of the couple, to the mom which they asked to be provided to their dad.
The children described abuse and inappropriate conduct by their dad, including alleged incidents of physical and psychological abuse, court heard.
In one incident, Aquilini allegedly beat one of his sleeping children and continued the beating after the child woke up.
One of his kids claimed to have seen him throw a five-year-old child across a room. A third allegation had him punching a child in the stomach, causing the child to cry.
Article content
"Both as a mother and licensed mental health professional, I believe that my children told the truth in their affidavits," Tali'ah Aquilini said in her affidavit, parts of which were read out by Hunter.
Hunter said the affidavits were delivered to Aquilini in January 2021 through his lawyer, but there has been no response by him to the allegations.
"Through counsel, the respondent has indicated he denies the allegations, but again we haven't received any evidence from him to that effect at all."
Hunter argued that the allegations of abuse were relevant to the court application.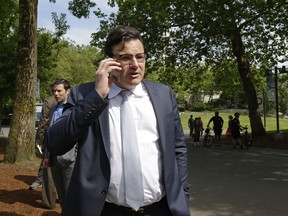 But Ken McEwan, a lawyer for Aquilini, argued that the allegations contained in the children's affidavits were irrelevant to the matter before the court. He did not specifically address the allegations.
Article content
However, a statement released on Aquilini's behalf said that he categorically denies and is "outraged" by the accusations made by his ex-wife in family court that he has ever abused his kids.
"The couple were divorced and reached a settlement in 2013. Mr. Aquilini has met and will continue to meet any child support obligations required by the law, but he has concerns about the veracity of the information provided in support of financial demands," the statement says.
"It is unfortunate that allegations without merit are brought forward for a collateral purpose. He will have nothing further to say at this time as the matter is before the courts."
McEwan argued that the redactions of information from the children on their university expenses have prevented Aquilini from getting the information he needs to know whether the kids currently qualify as children of the marriage and therefore qualify for support.
Article content
"An iron curtain has come down across that information," he told the judge.
McEwan said his client doesn't want to have any information disclosed to him personally and only wants his lawyers to be able to verify the claims made by the kids.
He said that for some time, Aquilini has proposed that his lawyers provide an undertaking to get all of the information on the understanding that none of it be disclosed to him.
Tali'ah Aquilini listened intently during Tuesday's court proceedings but her ex-husband was not in court.
Aquilini family interested in buying Freedom Mobile from Rogers

Obituary: Wife of Canucks legend Stan Smyl helped found Canuck Place
---
More news, fewer ads, faster load time: Get unlimited, ad-lite access to the Vancouver Sun, the Province, National Post and 13 other Canadian news sites for just $14/month or $140/year. Subscribe now through the Vancouver Sun or The Province.