Some auctions involving bighorn rams have fetched well over $300,000 USD per tag, a portion of which supports Alberta's conservation efforts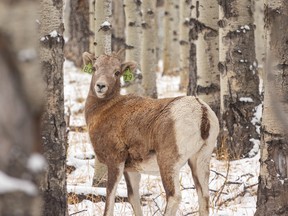 Article content
The UCP government has extended a big game trophy hunting program from approximately three months to the entire year.
Article content
It's an unprecedented move in a bid to largely attract big-money U.S. hunters that's drawn fire from at least one Albertan, who calls it unethical and harmful to an already stressed bighorn sheep population.
Article content
"To be hunting them this time of the year is totally wrong and unethical," said Glen Pickering, who says he's been hunting for more than four decades and relies on big game for all his meat.
"Never in the history of Alberta have we needed year-round hunters to manage these animals . . . none of these animals have a surplus this time of year."
The extension of the Minister's Special Licence program (MSL) dating back to the 1990s, which employs auctions and raffles, allows for the hunting per year of two each of bighorn sheep, mule deer, elk, pronghorn antelope, moose and wild turkey.
Article content
'It's not sound management'
Pickering said the frail condition of bighorn sheep at the tail end of a harsh winter, combined with illnesses currently plaguing them, means the population is stressed and hunting them now is hardly sporting.
And he noted some of the province's own wildlife aerial surveys in recent years indicates numbers of larger rams, which are the focus of the MSL hunts, have fallen compared to previous years.
"It's not sound management and it's not fair chase," he said.
"We have lots of money in Alberta and we don't need to be selling off these animals."
Some auctions involving bighorn rams have fetched well over US$300,000 per tag. A portion of that money supports conservation efforts in Alberta and government general revenues.
Article content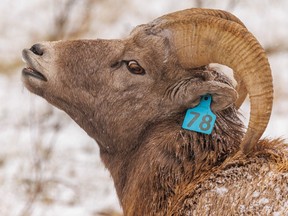 Even so, Pickering said given nearly $20 million is generated annually in overall hunting revenues, money from an extended MSL season isn't necessary.
And he said the change was slipped in quietly, though a government online PDF extolls the virtues of the new-look MSL which it says begins Sept. 1 of this year, adding "whether the holder of this permit comes once, or multiple times, they are certain to enjoy the hunt of a lifetime."
While she admits not being familiar with the MSL program and its extension, conservation specialist Devon Earl said it's crucial such bighorn sheep hunts be done sustainably.
"With the big males being hunted, you have to be careful in some areas of the province that it's not affecting reproduction thresholds," said Earl, who works for the Alberta Wilderness Association.
Article content
"It is a little concerning."
Such activity also has to be weighed against the animals' live value, she said.
"(Tourism is) not an insignificant part of the economy and we'd like to have these big, healthy animals on the landscape," said Earl.
"Then there's their inherent value, too."
Small number of licences will have limited effect on wildlife, officials say
Provincial government officials didn't provide comment but defended the policy change in a series of letters to Pickering over the past month, saying it was done to increase conservation revenue and increase Alberta's hunting tourism profile.
The government also said the small number of licences involved will have limited effect on wildlife and other hunting activities.
Article content
"Providing the hunting opportunities represented by these extremely limited special licences will not have a significant effect on hunting draw wait times or the health of provincial wildlife populations," said an official with Fish and Wildlife Stewardship with Alberta Environment and Parks.
"While the harvest of two rams per year under the MSL is additive to the total harvest, data would suggest that these rams would likely be harvested prior to the next breeding season or would return post-winter to areas where they cannot be legally hunted under any licence."
They said the hunt and the revenues raised from it are supported by the department's scientists and its harvest data.
Proponents also say the move is needed to keep Alberta competitive with U.S. states and other countries in the big game auction sweepstakes.
Article content
A government scientist told Pickering the decision to extend the MSL was made in consultation with the Alberta Professional Outfitters Society, which advocated for the change, and doesn't violate hunting ethics.
"The opportunity to hunt these few specimens will not compel the licensees to hunt them at a time of bioenergetic ebb after a harsh winter, the hunter may pursue them at other times of the year," wrote Dr. Brian Joubert of Alberta Forestry, Parks and Tourism.
Illegal off-leash dogs put stress on city's wildlife, say researchers

Cameras could be key to reducing wildlife collisions
An outfitter who spearheaded the creation of the MSLs in the 1990s said widening the season is environmentally sustainable while the program has proved its worth.
"We've probably only sacrificed a dozen rams for these millions of dollars brought in for these conservation projects," said Lorne Hindbo, who's served as president of the Alberta Outfitters Association.
"We're talking about an animal that will die from natural causes in a year."
Widespread opposition among Alberta hunters to any kind of trophy auctions is nothing new, he added.
"I can see some of his concerns, but I think (Pickering) is being a bit selfish," said Hindbo.
Twitter: @BillKaufmannjrn