The head of Alberta's largest paramedics union is also calling for meetings with new government leaders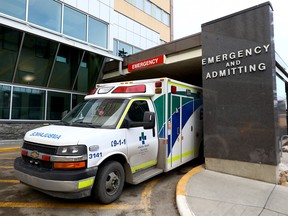 Article content
The head of Alberta's largest paramedics union is calling for better reporting of EMS shortages, while calling for meetings with new government leaders.
Article content
Mike Parker, president of the Health Sciences Association of Alberta, said the provincial government needs to direct Alberta Health Services to report the number and duration of red alerts occurring across Alberta, and to detail instances when ambulances were not readily available for high-priority calls.
Article content
Red alerts are when there are no available ambulances to respond to 911 calls in a given area.
"I have limited faith in this government because they are standing on the platform of everything is still OK — it's not OK," said Parker. "This system is under so much pressure. Our people are breaking under that pressure and we expect them to continue doing this level of work."
The EMS system has come under fire in recent months, particularly in Calgary, after a number of high-profile incidents when there were long delays before an ambulance responded to an emergency.
Article content
In April, a woman who had broken her leg waited six hours before an ambulance arrived, after her son had made several 911 calls. AHS confirmed the city was in a red alert at the time.
Braid: Patients call 911 for help — from hospital. The deep crisis in EMS

Five new ambulances, 20 new paramedics deployed in Calgary

Braid: Government finally faces up to EMS crisis years in the making

EMS staff burning out, can't access time off, says union
In June, an ambulance arrived more than half an hour after an initial 911 call was made when an 86-year-old woman was attacked by her neighbours' dogs. AHS has previously said that after the initial call only police were dispatched to the scene, but that a secondary call made it clear an ambulance was needed. One arrived nine minutes after the second call. A probe into the response has since been launched.
Article content
Calgary was in red alert during the time of the attack, AHS has previously said.
Parker said those headline-making incidents in Calgary are a microcosm for what is happening across Alberta.
"We need to come clean with Albertans about the state of their emergency medical services," said Parker. "Albertans need to be able to see how bad the situation is and be given the means to report these incidents so they are acted on."
In addition to calling for better reporting around red alerts, Parker called for a pathway for first responders to internally report when they feel a lack of ambulances affected their ability to provide care.
"Our folks are giving it everything they have — this system is good, the people are great. The pressures they are facing are immense and this publicly funded system that is delivered by the hands of health-care workers across this province needs to be supported," said Parker.
Article content
Parker said he has not been able to get a meeting with Alberta's health minister over the past two years but hopes a change at the top of the provincial government, with Danielle Smith becoming premier, will provide an opportunity for everyone to come to the table.
He said he has letters ready to be sent to those in power once a new cabinet is announced.
"There always was and there will always be that opportunity to share what is happening on the front lines to those in power who make the decisions," said Parker.
Requests for comment sent to the minister of health's office and Alberta Health Services were not immediately returned.