'These people have been charged but not convicted … Does the government have the authority to be able to impose that? I don't think they do'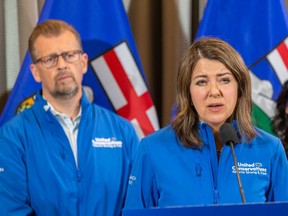 Article content
The UCP wants to slap ankle monitors on dangerous offenders out on bail in Alberta but experts are questioning the legal standing of the campaign promise, saying it may be outside the scope of the provincial government.
Article content
UCP Leader Danielle Smith announced the measure Tuesday as part of her party's plan to combat crime in Alberta. If elected, Smith says the government will impose ankle bracelet monitoring of repeat offenders charged with violent offences who've been granted bail, which the UCP estimated would cost $2 million annually. The province would task Alberta Sheriffs with monitoring those offenders.
Article content
"If the federal government does not address the issue of catch and release, we know we have to step in. That's why we will be using the ankle bracelets in order to be able to monitor," said Smith on Tuesday.
"We will ensure that criminals out on bail when they shouldn't be have more eyes on them. There is no free pass in Alberta."
Mount Royal University criminologist Doug King says the promise raises some questions.
"These people have been charged but not convicted … Does the government have the authority to be able to impose that? I don't think they do," he said.
"Conditions related to a judicial interim release are decided by a judge on a case-by-case basis based on the recommendation of Crown prosecutors and defence counsel — that's the norm. Governments can't go around directing judges to do certain things."
Article content
Ankle bracelets one of the harshest conditions: expert
According to Shawn King, an Edmonton-based criminal defence lawyer and vice-president of the Criminal Trial Lawyers' Association, electronic monitoring is a seldom-used tool among release conditions. The request typically comes from defence lawyers to aid in their client's release and is paid for by the accused — via a third-party monitoring company — if bail is granted.
Shawn King says ankle bracelets are one of the more harsh conditions that can be imposed upon an accused offender granted pretrial release. He says a provincial edict setting it as the baseline for some offenders would start bail discussions at the "top of the ladder" and threaten rights defined by the Canadian Charter.
"When you start at the top, there's no place else to go," he said. "Judges are going to reject that right up front, saying this is ridiculous. We need to start at the bottom, where the Supreme Court of Canada says we have to, and go from there."
Both say the announcement lacked specific details or explanation of how the UCP would implement the plan.
Article content
"The province doesn't have the ability to tell justices of the peace and other judges conducting bail hearings what to do. The direction has to come from the federal government through Criminal Code amendments," said Shawn King. "Smith is either making promises that she can't deliver or she's ignorant to the division of power."
'An assumption that they're guilty'
Asked for clarification on the plan at an unrelated news conference on Wednesday, UCP candidate Jeremy Nixon deferred to Smith's previous comments. The UCP did not respond to Postmedia's request for additional information and clarification on the proposal Wednesday.
Doug King says if the UCP wins power and moves forward with the idea, it would have to direct Crown prosecutors to argue for electronic monitoring as a condition of bail, not judges. But Shawn King says that route would hamper prosecutorial discretion.
"That's a big problem, too. When the government decides to come down from the top and say, 'You no longer have the authority to do what you believe to be correct; you now have to follow our policy,' judges are going to see right through that — (they'll) only put it in when they believe that it's necessary," he said.
Article content
"And if they believed it was necessary, it would have been something Crowns would have been asking for already."
Alberta UCP promises to monitor violent offenders out on bail with ankle bracelets as part of safety plan

Integrated policing, restored municipal funding key pillars of Alberta NDP public safety plan

Public Safety Minister Mike Ellis says sheriff redeployment has brought hope to citizens
Doug King says the province had a similar program through the early 2010s, mandating post-conviction ankle bracelets for certain offenders upon their release from prison. The key difference with the new proposal is the target — repeat offenders accused of new crimes instead of parolees.
"The wording of the UCP indicates that this person is not innocent unless and until proven guilty. It's sort of an assumption that they're guilty right up front," said Shawn King.
'Hasn't been particularly effective': NDP criticizes plan
The UCP made a promise during the 2019 election campaign to fund electronic monitoring of domestic violence offenders — also featuring a $2-million price tag — which never came to fruition. Prince Edward Island and Quebec both have similar programs focused on keeping people convicted of domestic violence offences away from victims.
Article content
B.C. and Saskatchewan have programs for the provision of electronic monitoring for accused offenders out on bail. Neither of those programs appears to issue a directive as to which types of accused offenders should be made to wear the monitors.
NDP candidate for Calgary-Mountain View Kathleen Ganley addressed the issue at an unrelated party announcement Wednesday. Ganley, the former justice minister, says the NDP considered a similar program when it was in government, but that suggesting monitoring technology is a cure-all for bail and recidivism issues is "just not correct."
"They've tried this in several other places and it hasn't been particularly effective," she said. "It has cost an enormous amount of money and it hasn't increased public safety at all."
— With files from Lisa Johnson
Twitter: @MichaelRdrguez