Lisa Young, a political science professor at the University of Calgary, said it's unlikely someone other than the NDP or UCP will win a seat, but these parties have the chance to impact in a different way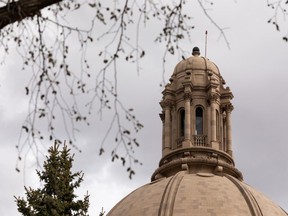 Article content
While the NDP and the UCP dominate the election discussion, a dozen other parties are fighting to break through on May 29.
Article content
Four parties in particular have brand-name appeal and anticipate running candidates in at least one-quarter of Alberta's 87 ridings. The deadline is Thursday for registration. The Alberta Party, Green Party of Alberta, Alberta Liberal Party and the Wildrose Loyalty Coalition are the frontrunners among them.
Article content
Lisa Young, a political science professor at the University of Calgary, said it's unlikely someone other than the big two will win a seat, but these parties have the chance to impact in a different way.
"If there's going to be any impact in this election, it would be as a spoiler," she said. "You can imagine if the Alberta Party … does particularly well in one electoral district, it could make the difference of who wins the district, and then we get into a game of assuming who people would have voted for if they hadn't voted for the Alberta Party."
Other registered parties include the Advantage Party of Alberta, the Communist Party — Alberta, the Pro-Life Alberta Political Association, the Reform Party of Alberta, the Solidarity Movement of Alberta, the Buffalo Party of Alberta, the Independence Party of Alberta, and the Wildrose Independence Party of Alberta.
Article content
In an election with two polarizing parties and uncertainty moving forward, these fringe parties have an opportunity to lay a foundation to capture the disenfranchised voter and grow their base.
Promises made: where the NDP and UCP stand on top issues in Alberta election campaign

Alberta election: Everything you need to know before you vote

Notley, Smith pitch swing voters in Calgary campaign stops

Calgary set as key battleground for four-week Alberta election
Alberta Party
The Alberta Party will have 25 to 30 candidates when the deadline arrives at 2 p.m., and may have the best chance at breaking through.
The party won a single seat in 2015 (Glen Clark in Calgary-Elbow) before being shut out in 2019 under former leader Stephen Mandel, despite getting 172,203 votes and increasing their vote share almost five-fold.
Current leader Barry Morishita said health care, affordability, education and the economy are campaign targets. He said Albertans need to trust the professionals within the health-care system and listen to them to address needs, while investment is needed in education and post-secondary to train people to their potential to "find hope and opportunity here in Alberta."
Article content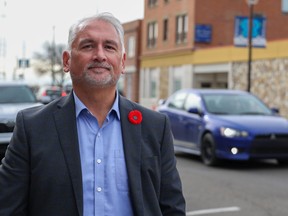 Morishita said government affordability payments should have been better targeted to those who needed them, including single people who rent and couples who live near the poverty line. They would also rework income tax to make life more affordable.
Their biggest hot-button plank is they would have a serious discussion about the implementation of a provincial sales tax in order to put predictability into provincial revenue streams and help break the boom and bust of the economy. It is something the Business Council of Alberta has backed them up on prior to the election. At the centre of this are an estimated 90,000-100,000 people who work in Alberta but do not pay taxes here and a multi-billion-dollar tourism economy with people who visit and use services but do not pay any taxes.
"We need to have that conversation about how we pay for services sustainably in the province of Alberta," said Morishita. "We need to do it so that it's not the first thing to be cut when oil prices go down are our health care and education, which has been the case cycle through cycle in this province and it has to stop."
Article content
Green Party of Alberta
Jordan Wilkie (Edmonton-Rutherford), leader of the Green Party of Alberta, said he sees a lot of frustration in the current electoral system and they will be pushing for electoral reform in favour of a proportional representation system.
The Green Party of Alberta is primed to run as many as 44 candidates.
Wilkie has been a firefighter in Edmonton for the past 15 years. He said the province would be well served by a minority government due to the accountability and transparency it would create, but is almost impossible right now. He argued that reform would help bring balance back to the system.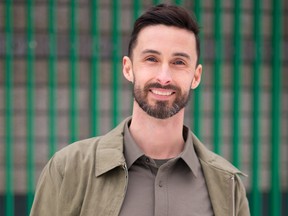 The Green Party of Alberta is calling for a two-pronged approach to crime, including both policing but also stronger efforts in addressing the root cause of crime — poverty, houselessness and addiction. He said the lack of affordability without rent control is putting more people out on the streets.
Wilkie said at the core of these solutions is the need for a basic income to eradicate poverty at the most basic level and housing with wraparound services for people with addiction issues. He also discussed the need for free tuition, universal mental health care and comprehensive health care. He said they are also the only party with a wildfire resilience plan.
Article content
"We have this ability … to really talk about solutions that would move the needle and make life better for just average Albertans," he said.
Economically, the platform stresses further diversification, leaning into the principles of Peter Lougheed and increasing royalties to ensure Albertans get their fair share. Wilkie would also raise corporate taxes to 12 per cent while lowering small business taxes to one per cent and invest in agriculture and a provincial train-based transportation system.
Alberta Liberal Party
The province's first governing party is in a full-on foundational rebuild. They have not won more than one seat since 2012 and leader John Roggeveen was admittedly reluctant to take over.
Now, his task is to pick up ground in the centre between the NDP and the UCP by trying to distance the party from the Ottawa Liberals while running a roster of around two dozen candidates.
"We have this ability … to really talk about solutions that would move the needle and make life better for just average Albertans," said Roggeveen.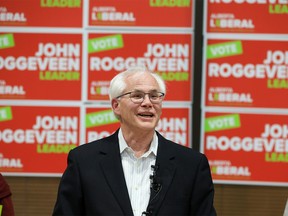 At the foundation of what needs to be dealt with is a workforce and economic transition. He is loathe to use the "Just Transition" label. While he says there will always be a need for oil and gas, especially in the production of goods, there needs to be a high prioritization placed on ensuring Albertans are not without work and that their skills are transferable.
Article content
He said the province needs to continue to expand on green energy technologies like hydrogen and lithium extraction — natural evolutions for oil and gas — and step up in sectors like semiconductor manufacturing.
The party has other planks, including health care, education and cost of living, but jobs are paramount.
"If we don't have a reasonably strong economy, our health care will suffer because we won't be able to pay for it … same thing with our education," said Roggeveen, while noting these issues are critical to the economy as well. "They're all intertwined."
Wildrose Loyalist Coalition
The Wildrose Loyalist Coalition is led by a familiar name in Alberta politics — former Wildrose headman Paul Hinman.
He won a seat with the Alberta Alliance Party in 2004 and then merged the party with the Wildrose Party in 2008, which was built up into a right-wing power in the province.
At one point, the party was forecasting as many as 54 candidates in this election, though on Wednesday Hinman said they will come in well below that total, with the most focus in five rural ridings: Lacombe-Ponoka, Taber-Warner, Rimbey-Rocky Mountain House-Sundre, Drayton Valley-Devon and Vermilion-Lloydminster.
Article content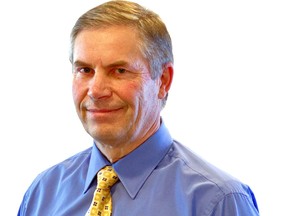 The party is built around three pillars — truth, trust and taxes. On truth he discredits the environmental movement, saying that Alberta must reject plans for carbon net-zero goals and the Paris Accord while promoting Alberta's ethically produced oil. He said the government needs to trust parents, the free market and the freedoms of the people, bolstered by the ability of a riding to recall their elected official.
The party would create the Alberta Revenue Agency and collect all taxes in Alberta by Albertans for Albertans and then would forward Alberta's constitutional responsibilities to the federal government. He promised fiscal responsibility by the province with the enshrinement of a balanced budget in the province's constitution while eliminating taxes on food, energy and property and reducing the size of government.
"We want a balanced budget from our government," said Hinman. "This idea that the two legacy parties get in and buy boats and spend our children and grandchildren's future is wrong."
Twitter: @JoshAldrich03