The inflow represents Alberta's highest first-quarter interprovincial population boost since 2015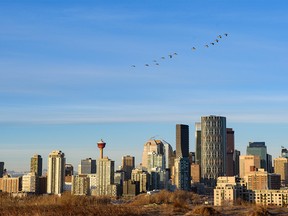 Article content
For a third-straight quarter, more people moved to Alberta than left in the first three months of 2022, according to Statistics Canada data.
Article content
Numbers released by the national agency this week show a net gain of 5,351 people to Alberta via interprovincial migration from January to March of this year, a number that leads Canada. During that first quarter, 21,980 people moved to Alberta from elsewhere in Canada, compared to 16,629 people leaving for another province or territory.
It's a trend that indicates Alberta has turned the corner after more than a year during which it lost population to interprovincial migration, dating back to the start of 2020, before the COVID-19 pandemic began.
"It's a real turnaround in the flow of people from the other parts of the country," said Rob Roach, chief economist for ATB Financial. He said Alberta's migration woes date back to the provincial recession of 2015-16.
Article content
"Since then, until the last three quarters, so halfway through last year, we were really losing people. There were a few quarters where we managed to get into positive territory, but for the most part, more people were leaving Alberta than coming in from the rest of the country.
"So the fact we have three quarters in a row of really positive in-flow, that's a stretch. One quarter wouldn't be enough to identify a trend, but it's three in a row, so I think it's a significant change."
The gains represent Alberta's highest first-quarter interprovincial population boost since 2015. The majority of those gains came from Ontario, which had a net flow of 3,577 people to Alberta, followed by Manitoba and Saskatchewan.
Alberta only lost population to British Columbia and Atlantic Canada through the start of 2022, with a net flow of 253 residents to B.C. and 450 residents to the Atlantic provinces.
Article content
That's an indication of strong economic conditions in Alberta compared to the rest of the country, Roach said. Job opportunities are one factor, he said, but relative affordability also plays a role.
"There's also the affordability piece with the housing market. If you have an opportunity to move from Toronto to Calgary, you're going to do so much better on your housing costs," said Roach, who added recovery of the energy industry likely plays a greater role in population trends than the emergence from the COVID-19 pandemic.
"Our oil sector and natural gas sector, they bounced back, having a much better time of it, at least in the year so far in 2022. It's not the only reason people are moving here, but it certainly helps boost the economy and gives a sense that things are happening in Alberta again."
Article content
The latest StatCan data also indicate Alberta has surpassed 4.5 million residents for the first time in its history. Alberta's population was 4,500,917 as of April 1, according to that agency's estimates.
In all, the province added 20,431 residents in the first quarter of 2022, a 0.46 per cent population growth.
Net international migration played the biggest role in that growth, with 11,159 more people entering the province from abroad than leaving it.
Alberta gained a population of 3,921 people from natural growth, logging the highest natural growth rate of any province. It was one of only four provinces with more births than deaths to start 2022, alongside Ontario, Manitoba and Saskatchewan.
Twitter: @jasonfherring