Finally, this year, things are back on schedule and it's normal again. It's fun."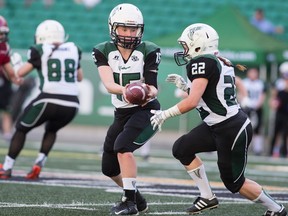 Article content
Alex Eyolfson knew exactly where she wanted to be when winter turned into spring: The football field, with her Saskatoon Valkyries teammates.
Article content
The team hadn't played a real season since 2019, which makes Saturday's Western Women's Canadian Football League championship game against the Manitoba Fearless all the more special.
"After COVID, I still wanted to play. It's still fun for me," Eyolfson, the Valkyries quarterback, said Thursday. "I wanted that normal regular season to come back."
Saturday's game is slated for SMF Field at 7 p.m. The Valkyries are a perfect 6-0 so far, including a 52-0 thrashing of the Edmonton Storm this past weekend.
Eyolfson completed 14 of 22 passes for 159 yards and two touchdowns during that semifinal win, and she said she's appreciated this season and the return to normalcy.
The entire 2020 schedule was wiped out, and in 2021, the Valkyries and Regina Riot salvaged a bit of a season by playing a three-game provincial series head-to-head.
In 2022, they've gone back to a full campaign, and the Valkyries returned plenty of veterans, hungry for a longer schedule and a championship run.
"It feels like so long ago," Eyolfson says of the initial cancellation. "I remember when COVID hit in March of 2020, it was just a big shock when everything happened. It was 'what? We're not going to have a season?' This is my sixth year, and it was weird — when spring comes, it's Valkyries season and you're busy for those few months. So that was really weird.
"Then last year we played Regina three times, but it didn't feel normal. Finally, this year, things are back on schedule and it's normal again. It's fun."
Article content
The Valkyries have won six WWCFL titles overall, and enter Saturday's game as the defending champions, given that they beat Regina 25-3 in the 2019 league final.
It feels like a long time ago, Eyolfson says with a laugh, but now they can do a gridiron refresh.
Manitoba enters Saturday's contest with a 5-1 record, including a 20-13 playoff win over Regina and a 15-6 victory over the Calgary Rage this past weekend.
Saskatoon and Manitoba met once this season, with the Valkyries winning 43-14 on May 1.
"They are coached very well, and they've probably been watching our film lots," Eyolfson said. "We need to adjust, and that's what we've been doing this week.
"There's maybe a little extra pressure (as the favourites), but it's a good challenge. We have to treat them like any other team, and any other game. It's going to be a good game, I think."
Valkyries head into league final after lopsided win over Edmonton

COVID-19: Valkyries' 2020 season cancelled; players already looking ahead to 2021
The news seems to be flying at us faster all the time. From COVID-19 updates to politics and crime and everything in between, it can be hard to keep up. With that in mind, the Saskatoon StarPhoenix has created an Afternoon Headlines newsletter that can be delivered daily to your inbox to help make sure you are up to date with the most vital news of the day. Click here to subscribe.