In the works for more than a year, the plan was unveiled Wednesday in the wake of three shootings in the last week.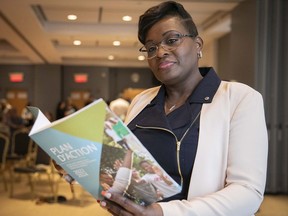 Article content
Still reeling from a recent spate of shootings, the Rivière-des-Prairies—Pointe-aux-Trembles borough detailed a new action plan to tackle gun violence and strengthen security on Wednesday.
Article content
And yet, despite all the work that went into the three-year plan, the borough warned there won't be any easy solutions to curbing the spread of violence seen over the last two years.
"There is no miracle solution, no magic wand to solve the problem today," borough mayor Caroline Bourgeois said during a news conference. "Violence is a very complex issue. But we must attack the problem on all levels."
In the works for more than a year, the action plan was unveiled in the wake of three instances of gun violence in the last week alone.
On Monday evening, two homes and three cars were hit by bullets on a residential street, only a few days after a similar shooting targeted another home. Last week, an empty daycare was hit by gunfire in the early evening.
Article content
The incidents followed a brazen daytime shootout last summer that left three dead and sent shockwaves through Rivière-des-Prairies, leading many to call for more policing in the area.
On hand for Wednesday's announcement, Montreal police Cmdr. Éric Breton, from the borough's Station 45, said the difference in the last two years is how disorganized crime has become and how easily people are accessing firearms.
"Our response is quick when it happens, but since it's so disorganized, it's hard to target it beforehand," Breton explained, noting feuds that seem to start on social media are now spilling into the streets.
"People can cross each other in cars and, unfortunately, they decide to settle their differences right then and there," he added. "It's that side of things that is really hard to predict and prevent."
Article content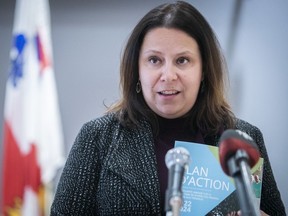 Breton and Bourgeois both noted overall crime rates have decreased in the borough in recent years, but said they understand the reckless nature of many of the shootings has undermined people's sense of security.
And the dropping crime rate is little comfort to families that have suffered the aftermath of the shootings, Bourgeois added.
"It's an important conversation, and one that needs to be considered, but not one to have with a resident who's just had a bullet go through their car or house," she said.
"What they're saying is: It could have hit their daughter, son or mother," she continued. "And I completely understand they would feel unsafe after living through a frightening moment like that."
The new action plan was put together with the involvement of 53 stakeholders, including the local police station, many community groups, borough officials and schools.
Article content
It's based on four axes: gaining a better understanding of urban security at the local level, valorizing young people, improving residents' sense of security and strengthening partnerships between community groups, police and the borough.
Though she understands residents' calls for more policing in light of the shootings, Bourgeois said any solution to the problem needs to come through a mix of enforcement and prevention.
"You won't stop a young person from leaning toward street gangs by adding more police officers in our streets," she said. "So if we want to improve this over two, five or 10 years, it's important to strike the right balance."
One of the local organizations involved in the plan is the Centre de promotion communautaire Le Phare, which works with lower-income families in the neighbourhood.
Article content
In an interview, director Yanick Galan said community groups are happy to play their part in the process, but warned they can't shoulder the whole load.
The solution, Galan added, needs to come with a serious investment from the city in infrastructure and alternatives for young men and women in the borough.
"Young people have no space" to call their own, she said, adding that when they end up gathering in front of apartment buildings or on street corners as a result, they're immediately labelled as being part of a gang.
Those labels, and the lack of resources adapted to their needs, can leave many young people feeling excluded from the community, she added.
"So the only way out they see is often once someone gives them attention, but for the wrong reasons," Galan said. "We need to show them they're valued and offer them long-term alternatives."
'Thank God nobody got hurt': Bullets rip through R.D.P. for 3rd time in a week

Shots fired near daycare in R.D.P.

Gangs behind 'unprecedented' broad daylight shooting in R.D.P., police say