'It is local employers who make it possible for individuals with language barriers to get hired. I commend organizations willing to approach interviews in a sensitive manner and make it work for participants.'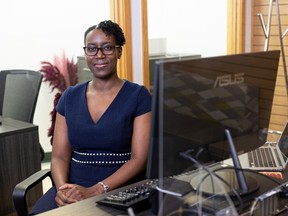 Article content
Businesses and non-profit organizations regularly open and move in Saskatoon. Today, the StarPhoenix talks to Kikoo Ndhlovu, executive director at the newly relocated Abilities Connected Employment Project at Confederation Mall.
Article content
Abilities Connected assists people new to Canada who have English language communication issues to navigate the complex challenges of finding a job. The employment project started as a home-based business four year ago, but the need for more space brought them to their new location in August.
Article content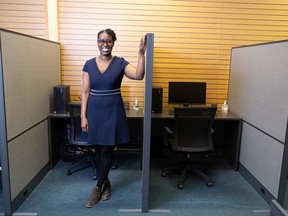 Q: What made you decide to open Abilities Connected Employment Project?
A: I was working for another organization as an employment coordinator and I noticed the pattern where all the newcomers that had a language barrier would be turned away. They would say "we can't assist you because of your language level. We only assist people that are level 5 and above for language." So I always used to speak with my supervisor to say, hey, we are turning away so many people here, we can help them with whatever experience they have from their home country. If they are signed up for English language classes here in Canada, we can support them to find part-time employment so they can do that at the same time. But I would be told that employers don't like that because of the safety risk and whatever reasons. So I just decided to open my own place and focus on those with language barriers who are excluded from finding paid employment.
Article content
Q: Who qualifies to become one of your clients?
A: To fit the criteria I need to see language proof that your Canadian Language Benchmark (CLB) is from level 1 to 4. You have to be a newcomer, permanent resident or have refugee status and you have to have that language proof as well. I received a grant funded by the federal government, under the Supporting Black Canadian Communities Initiative. That's what the grant is all about — to support newcomers with language barriers. I know there are other organizations out there that provide employment services to everyone else who speaks English well. So I just try to focus on those with language barriers.
Q: What kinds of services do you provide to clients?
A: I assist the client right from the beginning up until they get a job. And then I continue on with followups to check in with both the employer and the participant. If they have any areas that they need to work on, then I make sure that all those things are in place. We assist with resume building, interviewing skills, job searching, mentoring, work placements and developing life skills.
Article content
Q: Do you offer training sessions?
A: We have weekly sessions to benefit clients. On Tuesdays, we provide a group chat where participants can let me know in advance if they will attend. It's an avenue for them to practise the English language. They come here to the office and then we just talk about different topics and give each person a time to speak and practice their language skills. On Wednesdays, we have a computer assistance session, where the clients can come in if they need any assistance at all with something to do with a computer, I am there to help out with that. And then on Thursdays, we've got a life skills group.
Q: How important is it to find employers willing to give people with language issues a chance?
A: It is local employers who make it possible for individuals with language barriers to get hired. I commend organizations willing to approach interviews in a sensitive manner and make it work for participants. Without these open-minded employers, it would be tough to place anyone with a language barrier in employment.
Article content
Q: What made you relocate to Confederation Mall?
A: I was operating from home. This was just a side thing that I was doing while I had another job. When my grant was approved, I had to have space because the grant was also for capacity-building. So I was able to purchase the equipment that's needed for us to do this type of work. So we've got about 10 computers here that clients can access. I chose Confederation Mall because of the free parking, and I think a lot of newcomers live around this area as well.
Q: Why did you decide on the name Abilities Connected Employment Project?
A: Because the focus for me is to shine the light on abilities — on what people are able to do and not pointing out all the barriers. Not telling people that they don't have this, so we can't help you with that. It's important to work with what's available.
Article content
Q: What do you love most about operating Abilities Connected?
A: Just the notion of helping one person every time is fulfilling to me. To start with somebody when they don't even know where to turn to or by the time I meet them they are struggling and just getting by with what social assistance is providing, and then when you start working from intake, to resume, to going together to employers for interviews and then somebody is working! Just seeing all those changes that take place with that individual is fulfilling. I feel like I'm making a little difference in somebody else's life.
This interview has been edited and condensed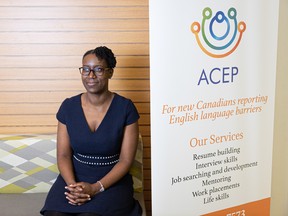 Abilities Connected Employment Project Inc. (ACEP)
Non-profit directors: Kikoo Ndhlovu (executive director), Charles Thuma (treasurer), Vuyoh Mafukidze (administrator)
Address: Confederation Mall (Near Sobey's)
Hours: Monday to Friday, 8:30 a.m. to 4:30 p.m.
Phone: 306-880-7573
Email: [email protected]
Website: abilitiesconnected.com/canadian-pages
Check: Facebook
Article content
Have you recently started or moved a new business or non-profit organization in Saskatoon? We want to hear your story. Please email [email protected]
Young entrepreneur celebrates Métis heritage at His Bead Store

Saskatoon's Baba's Closet a valuable free resource for Ukrainian refugees

Chel Salon boasts stylish atmosphere at new downtown location
The news seems to be flying at us faster all the time. From COVID-19 updates to politics and crime and everything in between, it can be hard to keep up. With that in mind, the Saskatoon StarPhoenix has created an Afternoon Headlines newsletter that can be delivered daily to your inbox to help make sure you are up to date with the most vital news of the day. Click here to subscribe.