A young man living with developmental delays, Macdonald made life brighter for all he encountered. He loved hockey, two-litre bottles of pop and everyone he ever met. Nearly 700 people gathered to celebrate his life Saturday.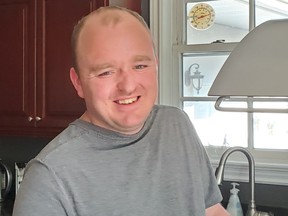 Article content
No one would have enjoyed Aaron Macdonald's memorial service Saturday afternoon at the Bell Sensplex more than Aaron Macdonald himself.
Article content
There was pizza and french fries and bottles of pop. There was singing and hockey players. There was family: parents Darlene and Bruce, brothers Kevin, Greg and, especially, his identical twin, Taylor. There was the multitude of cousins, aunts and uncles, and the larger "family" of friends — close to 700 in all — that Aaron embraced in his own unique way as a young man living with developmental delays.
Aaron died June 27 after collapsing while dancing around a campfire with his extended family, celebrating his older brother's engagement. He was 27.
"Aaron never met a stranger," said Jim Perkins, founder of the Capital City Condors, the adaptive hockey team for players with cognitive or physical disabilities for which both Aaron and Taylor played. "He just assumed in his good heart that everyone would be as happy to see him as he was to see them."
Article content
Perkins, who was master of ceremonies at Saturday's celebration of life, said those who knew Aaron became better because of it.
"The more exposed we are to these kids, the better people we become," Perkins said.
"We see things reflected in them that they seem to be able to do intuitively. It's an outflow of their own heart in how they respond to people. That's stuff I have to work at. It doesn't come naturally to me," he said.
"There's a couple of old school words we don't use much anymore: purity and goodness. Something that comes from the untainted and unfiltered heart. When you see that, it makes you look in a mirror and say, 'Man, I need to be more like that.'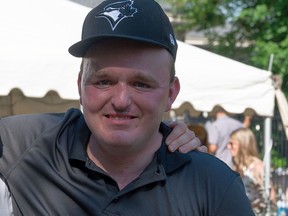 Aaron Macdonald was born May 18, 1995, eight minutes before Taylor. It was soon apparent that both boys were struggling and they were eventually diagnosed with developmental delays and obsessive compulsive disorder. He and Taylor attended Crystal Bay Public School together for two years, but were eventually schooled separately.
Article content
The brothers have been clients of Main Street Community Services in Stittsville since they were 11, first for respite care and eventually living in the agency's group homes. They attended Sonshine Family camps and developed their life skills with SHARE Community. Aaron was the more outgoing of the two—arranging outings, lunch dates, sleepovers and other adventures—never failing to include Taylor in his planning.
"Aaron's favourite thing was to be with the ones he loved," his cousin, Nicole Watt, told the gathering. "Aaron's heart was so pure. Every time you spoke to him he would say hello and tell you how much he loved you. He wanted to meet everyone with the sole purpose of finding a friend and making a connection with you.
Article content
"Aaron hated sadness. He saw no evil in the world and he was so content with the simplest things."
His social network extended far and wide. Former Ottawa Senator Mark Borowiecki and his wife, Tara, attended the funeral. Former Senator Kyle Turris and wife Julie sent flowers and texted Perkins throughout the service to get updates. Matt Carkner, another Capital City Condors mentor, also sent his condolences.
Though the twins often had conflicts growing up, Main Street had recently arranged for them to move in together in their own apartment, supported by a personal support worker.
"They were so excited about that. It was a new step," said their mother, Darlene. "They'd moved in together and they were having a ball."
Article content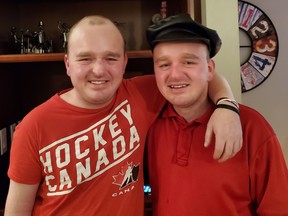 The family described the June 26 family gathering as "Aaron's Perfect Day."
"It was a backyard party filled with his favourite people surrounding him with love. He got to dance, sing on the microphone, eat good food, give a speech, jump in the pool with his cousins and laugh around a fire. This day was something Aaron had looked forward to for months and we are all so grateful he got to have the best last day on this earth."
It was close to midnight when Aaron collapsed without warning. His cousins immediately started CPR. Firefighters and paramedics took over the task when they arrived.
"We got to the hospital just in time to be told that he didn't much time left," Darlene said. "Every parent's worst nightmare. It was totally unexpected."
Article content
An autopsy revealed nothing.
"It was so frustrating," she said. "We wanted to know that this was not just some random event. But the autopsy said it wasn't his heart. It wasn't a stroke. It wasn't some brain 'glitch'. It wasn't a seizure."
It was, as someone at the funeral said, as if Aaron had died of happiness.
"Aaron taught us there is so much perfection in imperfection," Erica McLean, assistant executive director of Main Street Community Services, told the gathering. McLean recalled how Aaron would stuff his suitcase with two-litre bottles of pop, his collection of coffee cups "and random pieces of wood" for a simple overnight trip.
"Aaron was always pushing us to be more patient, to be more compassionate and to be more understanding," she said. "Remembering his colourful spirit, we will dance more, we will sing more and we will live in each moment with him in our hearts."
A Gofundme started by the Macdonald family, Aaron Macdonald's Perfect Day, has raised nearly $27,000 to support Main Street Community Services, the Capital City Condors, Sonshine Families and SHARE Community.
Capital City Condors taking hockey to Nashville