"This walk signifies the path our residential students took: Then it was from the village; today it's back to the village." — Squamish elected Coun. Wilson Williams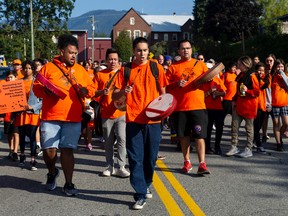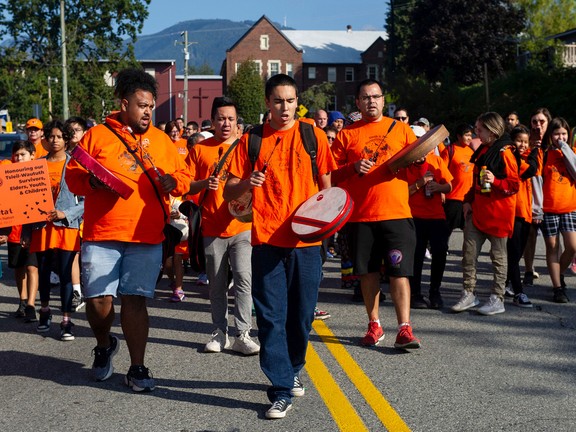 Article content
It's a walk many previously didn't make back.
Article content
A couple hundred people from the Tsleil-Waututh Nation and supporters commemorated Truth and Reconciliation Day by meeting at St. Thomas Aquinas Secondary in North Vancouver to make the 8 1/2-kilometre pilgrimage back to their territory off of Dollarton Highway.
Article content
The Catholic school sits on the site of the old St. Paul's Residential School and, because of the construction and expansion of the current facility, efforts to discover any possible unmarked graves is in the preliminary stage while the three local First Nations figure out how to search for graves under the buildings.
"The pilgrimage, I hope, raises awareness for everybody and four our community," said Deanna George, an elected councillor with the Tsleil-Waututh. "It gives us a time to heal, to reflect. Some of us don't have grandparents or parents anymore, so this is a way for our younger people to listen.
Article content
"It's heartbreaking that as a parent you had to send your child off (to residential school)."
Send your child off to a place where the 'educators' and 'custodians' of helpless children forbid their wards from displaying anything remotely to do with their culture to the point that some children tried to "wash the Indian" out of their skins.
"I saw kids strapped to beat their language out of them," said Wa7tsek, an elder and survivor of St. Paul's, where he was sent at age six.
Not only could he and his sister not talk in their native tongue, Wa7tsek said he was even afraid to wave at her for fear of corporal punishment.
The 82-year-old said reconciliation doesn't mean anything to him until the Indian Act — the law the federal government uses to administer Indian status introduced in 1876 and amended many times since — is gotten rid of.
Article content
"It is an evolving, paradoxical document that has enabled trauma, human rights violations and social and cultural disruption for generations of Indigenous Peoples," the Canadian Encyclopedia says.
And it means that even today, Indigenous Nations are at the mercy of Ottawa, Wa7tsek, wearing a handmade leather coat teeming with symbolism and stories, said.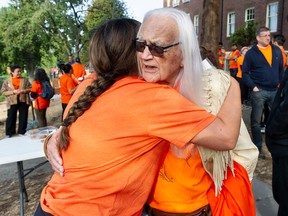 "We've lost too much, too much — our identity, who we are as Indigenous people, we lost all that," he said. "Our people can look after ourselves, we've looked after ourselves since time immemorial."
Wilson Williams, a Squamish elected councillor and spokesman for that Nation, said none of the orange-clad participants would be there had it not been for the strength and persistence of their ancestors, in a moving speech to send the group off on the pilgrimage.
Article content
"My parents were ashamed to use their language. I am not," he said. "This walk signifies the path our residential students took: Then it was from the village; today it's back to the village."
Hundreds of people lined 3rd Street, forming a "wall of protection" and to honour and cheer on those walking the earth. Children handed out orange carnations and spectators high-fived the walkers, many of whom carried signs and photos in memory of ancestors who didn't make it back from residential school.
According to records, more than 2,000 Indigenous children, representing six generations, were institutionalized at St. Paul's from Grades 1 to 8. When the school closed, many of them were taken to Kamloops, where the suspected unmarked graves of at least 215 children were discovered last year.
Twelve unidentified children died while attending St. Paul's between 1904 and 1913, according to records unearthed by the Squamish Nation, but the data is piecemeal and a search is on for more to be collected and examined.
On Friday, school buses were dropping off elders, not abducted youth.
"Childhood were stolen from so many," George said. "Some people compare residential school to boarding school, but it's not, those parents had a choice.
"We lost our culture, we lost our language, we lost our parenting skills."