Getting away from the harbour and exploring Victoria's unique neighbourhoods, will give you a new appreciation for our provincial capital.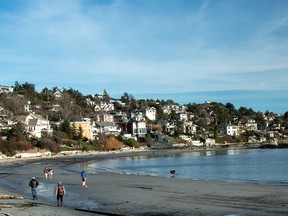 Reviews and recommendations are unbiased and products are independently selected. Postmedia may earn an affiliate commission from purchases made through links on this page.
Article content
Victoria's Inner Harbour is one-of-a-kind beautiful. The regal-looking Empress Hotel, iconic parliament buildings, and colourful 19th century buildings along Wharf Street form a stunning backdrop. And naturally, it's where most of the city's visitors flock. But getting away from the harbour and exploring Victoria's unique neighbourhoods, will give you a new appreciation for our provincial capital. 
Article content
With its gnarled oak trees, rocky outcrops and glittering ocean views, Victoria holds a special place for me. I grew up here and whenever I visit, I make a point of going on the same picturesque drive. Despite a handful of faded green signs that say Scenic Drive, this 20km ribbon of road isn't officially named. To me, it's simply known as The Drive. 
Article content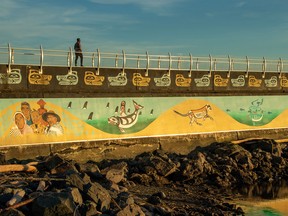 Get in your car (or hop on a bike) and leave touristy downtown. First, navigate the quiet streets of James Bay, Victoria's oldest neighbourhood, lined with eclectic heritage homes, bursting with colour and history. Make Ogden Point your first stop, where you can enjoy a 2.5 km stroll along the breakwater. A great spot any time of day, but come sunset, people are drawn to the breakwater and surrounding beaches to witness the warm colour of the day's end. 
Article content
A short distance along Dallas Road is a signpost marking Mile Zero of the Trans Canada Highway, and tucked a block away is the Beacon Drive-In, a small eatery that has been operating for more than 60 years. It's an institution in the city, and a place I worked as a teen. I remember the lines of people queueing for ice cream on a warm summer's night. In a world that seemingly needs quainter, the Beacon Drive-In still delivers. 
Before continuing your drive, make time to explore Beacon Hill Park. This 75-acre greenspace has long had historical and cultural significance for the Lekwungen people and formally became a park in 1882. Boasting Garry oak meadows, footpaths, flower gardens, duck ponds, children's play areas, the park is the perfect place for a picnic.
Article content
A must-see in the park is the world's tallest freestanding totem pole. Created from a single cedar tree by a team of carvers led by Mungo Martin, Kwakiutl tribal chief, the 127-foot story pole was erected in 1956.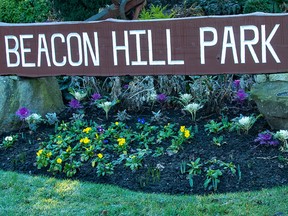 And be sure to take the road to the top of Beacon Hill, once home to navigational beacons for the many ships that sailed through the Strait of Juan de Fuca. Here, and elsewhere along the drive, you'll get sweeping views across the strait to the towering, snow-capped mountains of Washington State's Olympic Peninsula. While these mountains make for a great vista, they also form a rain shadow on southern Vancouver Island, which gives Victoria its favourable climate and significantly less rain than other areas of B.C.'s south coast. 
Article content
Further along Dallas Road, you'll come to the historic Ross Bay Cemetery, where many of the city's historical figures are buried, including world-renowned artist Emily Carr. Tours of the cemetery are offered, or you can explore the winding carriageways on your own. You might also see many deer, who have come to live in the cemetery. 
Near Ross Bay is one of my favourite beaches and one of the city's prettiest. But it's an easy one to miss. Gonzales Beach is a secret of sorts, because this inviting crescent of sand can't be seen from the road.
The terrace of homes that ring the cliffside above the beach gives it an Italian seaside feel. Perched on top of Gonzales Hill is the can't-miss, bright-white former weather observatory. A quick loop around to Dennison Road takes you up the hill to the observatory. There are nice views here, but for an even better vista, continue a short distance along the narrow road to Walbran Park.
Article content
"Wow! Wow! Wow," I heard someone exclaim, as I neared the steps to a viewpoint that was stunning in all directions. "It's worth a wow," I said. Downtown to the west. The glittering Strait of Juan de Fuca in front of me. And to the east, Mt. Baker dazzled in the afternoon sun. 
Back down from Gonzales Hill, you come to the District of Oak Bay, and stretching in front of you is McNeill Bay. At the far end of the bay (when coming from downtown Victoria), are two Adirondack chairs set upon a rocky point. It's the perfect place to rest and reflect. And as you gaze at the sea around you, know that these chairs have a colourful story of jealousy.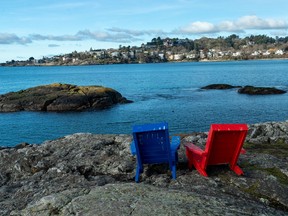 First, there was just one blue chair. It had become known as 'Old Blue'. Apparently, a man's wife wasn't fond of the blue chair he had built previously for a girlfriend. Not sure what to do with the chair, and not wanting to garbage it, he left it on the rocks at McNeill Bay. People became fond of the chair. But a storm destroyed it. Hearing how much the chair meant to people, the original builder built another, this one in red, and placed it back on the rocks. Someone else built a replica of the first chair.   
Article content
The Drive continues along Beach Drive, and soon you'll come to Willows Beach. Like a roll of ribbon running off its spool, this sandy stretch of nearly a kilometre is one of the city's most popular beaches, and home to the annual Oak Bay Tea Party, which has been running for almost 60 years. 
You can drive a short distance, or walk along Willows Beach to Cattle Point, so named because it was a drop-off spot for cattle in the 1800s. Mt. Baker provides another postcard-like backdrop here, and the gnarly oaks that seem to go on forever and the rocky outcrops in Uplands Park make for an unforgettable walk.  
Continue through the quiet Uplands neighbourhood, where you'll pass enviously at stately homes and seaside mansions. Beach Drive turns into Cadboro Bay Road, and when you get to Sinclair Road, turn left away from the ocean and up the hill to the University of Victoria. 
Take the university's ring road and onto Cedar Hill Cross Road, where The Drive ends on the top of Mt. Tolmie. You can drive to the top of the 120-metre summit or walk along the many trails, several of which will lead you to the top. The reward is a panoramic view of Greater Victoria and the surrounding region. 
I lingered for a while, never tiring of looking at Victoria on high. I looked toward downtown, retracing the route I had just taken. In my car again, I descended the other side of Mt. Tolmie, and can't wait to visit Victoria again, so I can do The Drive all over again.