"This is a little-known fact: there's not a lot of research or programs targeted at young Black men."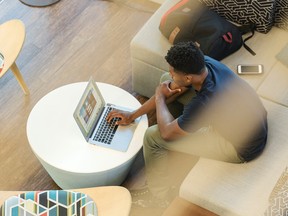 Article content
"Failure to launch" is an umbrella term for young adults having difficulty entering the workforce, getting an education, leaving the family home and becoming independent adults.
Article content
A closer look reveals that young Black men are more likely to launch belatedly, says McGill researcher Rob Whitley.
Article content
"This is a little-known fact: there's not a lot of research or programs targeted at young Black men."
Whitley has joined Valerie Williams of the Quebec Board of Black Educators-Montreal and Prof. Stan Chase of Toronto Metropolitan University to address roadblocks faced by Black men between the ages of 18 and 28, those crucial years of developmental milestones like finishing an education, leaving home, getting a job and having a first serious relationship.
In consultation with teachers, parents, community groups and young men, the researchers are developing Flex to Launch, an education course specializing in life skills. After a consultation period this fall, the pilot program will launch in January with 20 to 25 participants.
Article content
"It's not algebra or architecture," Whitley says. "It's how to write a good CV, a professional email, how to deal with interviews and rejection, financial management 101, a weekly budget … things we never learn in high school."
These skills are taught by fathers, grandfathers or uncles, Whitley says. Yet because Black families are more likely to be living in a low-income situation, the parents might be working two or three jobs, including evenings and weekends.
"If they're immigrants, the father or grandfather might be living in the Caribbean or Africa, so they're not readily available to pass on the kind of wisdom and advice that young men need. It's not only the education system that's not passing on these skills, it's these family issues."
Article content
Nearly 50 per cent of Black Canadian children live in families headed by single mothers. They do a good job of raising their sons, Williams says, but "the mothers cannot teach the boys to be men."
There are many programs within the formal education system up to age 18, she says. Then they age out of programs and "if they don't go directly into an academic program or skills training program, they can really fall below the radar."
Below the radar, "that pool of young people could be a recruitment pool for criminal elements in society. They are unattached," Williams says. "In 2022, in the context of violence in Quebec, it becomes even more relevant."
Chase helped found the LOVE (Leave Out Violence Everywhere) program in Montreal in the 1990s and believes there remain tremendous barriers for Black youth in the education system. When the COVID-19 pandemic hit, "It stood out for me that all the people who were making deliveries and being on the front lines were young men. They were delivering food and groceries to people who had nice jobs and were sitting at home on their computers."
Article content
While the goal of Flex to Launch is to grow life skills and introduce participants to successful Black entrepreneurs and professionals, Whitley stresses that they will bring their own skills to the table.
"They might be unemployed or have dropped out of the education system, but one of them might be a great mechanic or speaks three languages. One might be a great networker with social charisma. We won't just look at people's deficits and what they can't do. We'll see what skills they have and help each other."
The Canadian government-funded pilot project will be developed using feedback from participants and focus groups. They aren't starting from zero, Williams says, but they will be open to change and hope the program can grow beyond Montreal. For now, classes will take place once a week for 16 or 20 weeks. It will be strictly online, to fit "the current student, who has kids, has a job, and they can do their homework at 4 a.m. or Sunday," Chase says.
Article content
To those who might question why this kind of program is necessary or that men are already privleged, Whitley says, "If we don't help these men, plenty of gangs and criminal elements will try to exploit them. Nature abhors a vacuum."
For more information and to be included in the consultations and pilot program, please email Robert Whitley at [email protected].
Sign up for our parenting newsletter at montrealgazette.com/newsletters.
Opinion: Addressing 'failure to launch' should be a societal priority

Montreal percussive dancers step in to tell stories of Black art and history