"It's definitely too young. He was a great human being, a great football player, he was fun to be around."
Article content
Antoine Pruneau knew former Ottawa Redblacks teammate Jonathan Beaulieu-Richard wasn't doing well, that cancer had knocked him for a loop.
Article content
Beaulieu-Richard, a linebacker who played with the Redblacks from 2015-16, died Sunday at the age of 33. Diagnosed with cardiac sarcoma a year ago, he leaves behind a wife and two kids. The 32-year-old Pruneau, who played alongside Beaulieu-Richard with the University of Montreal Carabins before they were reunited with the Redblacks, was saddened by the news.
Article content
"I had been in contact with him, not that much but I still knew what was going on," said Pruneau. "I found out things were getting worse from other people. It's terrible thing. It's definitely too young. He was a great human being, a great football player, he was fun to be around. He cared for his family; I really feel for them more than anything. I've been really, really sad the past couple of days. I saw some pictures of him with his family when they were on vacation time; I hope those memories stick."
Article content
Not chosen in the 2012 CFL Draft, Beaulieu-Richard went on to play four seasons in the CFL — with the Hamilton Tiger-Cats, Montreal Alouettes, and Redblacks. He played 14 games for Ottawa, with one defensive tackle and six on special teams. Beaulieu-Richard was a team captain for the Carabins.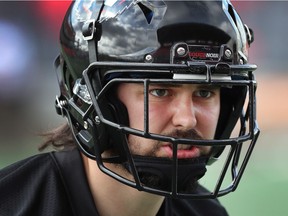 "He was someone I looked up to my whole career at university, he was one year older than me and he really was a great teammate," said Pruneau. "When he joined us here; he was one of the first members of the French Mafia."
For Pruneau, there are, of course, some fond memories of his days as a teammate.
"I was living on Grosvenor (Ave.), barely five minutes from (TD Place)," said Pruneau. "After practice, we would hang out. Sometimes he'd sleep on my couch and we'd leave for practice the next morning. We shared so many great conversations, he was very opinionated about a lot of things. That's what I'm going to remember. He leaves behind a great legacy; I learned a lot from him."
Article content
'WE'RE NOT HAPPY': Social media has been lighting up with criticism of the Redblacks, in particular head coach/offensive co-ordinator Paul LaPolice, who shrugs it off.
With the Redblacks struggling — with a 3-10 record, they've got five games remaining in the regular season — plenty of people are calling for LaPolice to be fired. The talk has intensified as the losses stack up. But the head coach, who also calls the offensive plays, says it's part of the business. He's got to put his focus on trying to beat the B.C. Lions Friday in Vancouver.
"I just don't have the time to pay attention to any of that, I really don't," said LaPolice. "I don't see (any of the criticism). It's posted in our room that we don't care about the noise inside or outside the building. We're not happy (with our losing record). I'm not happy. (What's being said is) part of pro sports, especially in the social media age. You're wouldn't be a coach if you were worried about those types of things. You wouldn't be in pro sports."
Article content
MOVING AHEAD WITH NICK: QB Nick Arbuckle threw two first-half interceptions before being replaced by Caleb Evans to start the second half in Saturday's 45-15 loss to Toronto. Arbuckle returned after Evans threw three interceptions (two of them went the other way for Argos touchdowns).
"We weren't on the same page as an offence in the first half," said Arbuckle Tuesday. "There were opportunities for us to make some plays, make better throws to our guys, give them a better chance to make plays. We could have had more offence. As a whole, we just didn't play well enough in the first half to have a lead going into halftime. We shot ourselves in the foot in the third quarter. We put our defence in a lot of bad situations. I felt like our defence battled really hard for at least three quarters, maybe more, of that game. They were putting us in a position to win. We have to come in this week and make sure we're sharp and on the same page. That goes for everybody (on offence) – the quarterbacks, the receivers, the running backs and the offensive line."
Article content
THE END AROUND: Some familiar faces could be ready to return to the Redblacks lineup soon. RB William Powell (knee), LB Adam Auclair (hand) and DB Sherrod Baltimore practised (limited) Tuesday. Centre Darius Ciraco (hip) who missed last week's game, was also limited. WR Nate Behar (ankle) and OL Ucambre Williams didn't practise … Predictably, the Redblacks are last in the CFL Power Rankings, one spot behind Edmonton. Toronto has moved into the three spot, with Montreal at five and Hamilton at seven … The Redblacks won't have to worry about facing B.C. Lions all-star receiver Bryan Burnham Friday; he's gone on the six-game injured list with a fractured wrist … Very interesting: The Calgary Stampeders announced they've signed QB Jake Maier to a contract extension through the 2024 season. That quite likely means 32-year-old Bo Levi Mitchell is looking for a new home heading into 2023 … Really nice one-handed interception by Money Hunter during the latter part of Tuesday's practice.
'IT'S MY FAULT': LaPolice takes blame as Ottawa Redblacks blown out at home by Argos

IN THE LINE OF FIRE: Redblacks won't move on from Coach LaPolice … yet