As the province prepares for the October election, health care is the second-biggest issue among voters, slightly behind the cost of living, the survey found.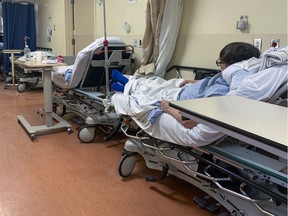 Article content
Quebecers are less and less impressed with Premier François Legault's performance on health care, a poll published Wednesday suggests.
Article content
Ahead of the October provincial election, the survey, conducted this month by the Angus Reid Institute, found health care to be the second-biggest issue in Quebec, slightly behind the cost of living and inflation.
The poll came out on the same day Quebec announced it is partially closing six emergency rooms this summer. Almost 60,000 health workers are absent from the system, a sign the government has been unable to tackle the network's chronic labour shortage.
Seventy-three per cent of those surveyed said Legault's Coalition Avenir Québec is doing a "poor" or "very poor" job managing health care in the province, up from 70 per cent three months ago.
It's a dramatic fall from favour for the CAQ.
Dissatisfaction with the provincial government's performance on health care was above 60 per cent in the four years before Legault became premier in October 2018.
Article content
After the CAQ took power, confidence shot up. For its first two years in office, a majority of Quebecers told pollsters the CAQ was doing a "good" or "very good" job on health care.
But confidence began to fall soon after the COVID-19 pandemic began in March 2020, leaving thousands dead and exposing major cracks in the health system, including understaffing and shortages of hospital beds and family doctors.
In the summer of 2020, when Legault appointed Christian Dubé as health minister, about half of Quebecers still approved of the government's performance on health care.
But since last fall, confidence in the CAQ has cratered. Today, the negative assessment of the provincial government's abilities on the health-care file is back where it was before the CAQ entered office.
Article content
It's not just a Quebec phenomenon.
The Angus Reid Institute said three-quarters of Canadians are critical of their respective provincial government's handling of health care.
"The number of Canadians who say their province is managing health well — 25 per cent — is at its lowest point in eight years of tracking," the polling firm said.
Angus Reid asked respondents to list three issues that are most important to them.
Among Quebecers, 63 per cent said cost of living/inflation and 59 per cent said health care. Climate change was far behind in third place (31 per cent).
Those polled could choose from a list of issues.
The other options were: the economy/jobs; COVID-19; the deficit/government spending; housing affordability; poverty/homelessness; education; drug use/addictions/opioid crisis; energy/oil and gas/pipelines; First Nations/Indigenous issues; and senior care.
Article content
The poll was conducted from June 7 to 13 among 5,032 Canadians, including 814 Quebecers. Quebec results carry a margin of error of plus or minus three percentage points, 19 times out of 20.
Another survey published Wednesday, by Léger, found that support for the CAQ has slipped somewhat, with Quebecers seemingly interested in electing a strong opposition.
Legault still has a commanding lead, with 41 per cent of those polled saying they would vote for his party.
Quebec's general election will be held on Oct. 3.
'It will be a hard summer,' Dubé says as Quebec plans to partially close six ERs

CAQ has slipped and Quebecers are interested in strong opposition: poll