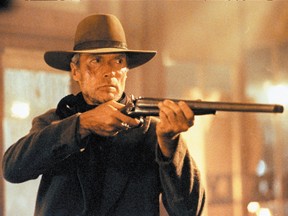 Reviews and recommendations are unbiased and products are independently selected. Postmedia may earn an affiliate commission from purchases made through links on this page.
Article content
Saul Rubinek had a four-word joke he would often repeat on the set of Clint Eastwood's Unforgiven.
Article content
Among his fellow actors on the 1991 Alberta-based production, Rubinek would simply say "Five people in France."
Article content
"That's who we said would see this movie," says Rubinek, in an interview with Postmedia from his home in Los Angeles. "Five people in France."
"The reason was not because we didn't think it was a good movie but because you had a western iconic hero shooting an unarmed 17-year-old," he adds, referring to one of many memorably unsettling moments in the 1992 classic western. "It was a dark western and it didn't fit with the Dirty Harry hero. It didn't fit with The Man With No Name iconic character. It just didn't fit."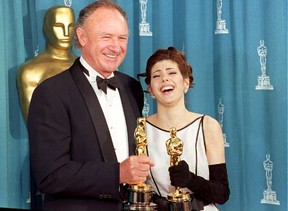 Thirty years after its release, it may be hard to fathom how Rubinek and his fellow actors could have been so staggeringly wrong about the film's commercial potential. But they weren't the only ones. Eastwood had optioned American screenwriter David Peoples' screenplay (which was written under the unfortunate working title The Cut-Whore Killings) after it was abandoned by Francis Ford Coppola in 1984. He sat on it for nearly a decade so he could naturally age into the role of William Munny, a reformed killer turned teetotaling pig farmer and father of two young children. He is convinced by a young buck named the Scofield Kid (Canadian Jaimz Woolvett) to return to his dark ways when a bounty is put out on two cowboys after they slash the face of a prostitute. He is living in poverty so reluctantly agrees, despite having found Jesus and given up alcohol and violence thanks to the guidance of his late wife. He recruits his old partner Ned (Morgan Freeman) to help carry out the killings and collect the reward offered by the town's furious, justice-seeking prostitutes, which pits him against a violent sheriff named Little Bill (Gene Hackman) who does not like "assassins or men of low character."
Article content
Peoples, who never set foot on the Alberta set, was given a private screening of the film by Eastwood before it was released. He was floored. The filmmaker had practically shot the screenplay word-for-word, a rarity for big Hollywood films. Clearly, Eastwood had thoroughly understood every myth-busting aspect of a screenplay that more resembled the violent anti-hero films of the 1970s such as Martin Scorsese's Taxi Driver than the traditional Hollywood takes of the Old West. It was a rough cut, but seeing his scenes come to life was stunning. Still, like Rubinek, he assumed it would be a box-office dud.
"I thought 'Well, Clint Eastwood made a great movie for Dave Peoples and that's nice of him, but nobody is going to want to see this,' " says Peoples, who would end up earning an Oscar nomination for his screenplay. "Of course, Clint knew better. I was just overwhelmed because I had written it and couldn't see it, really. Later when I saw it in theatres I understood, 'Yeah, everything is right here.' But I couldn't see that when I first saw it, I was too emotionally involved."
Article content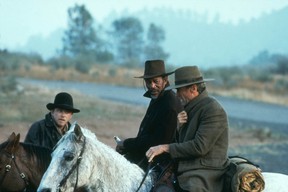 Unforgiven was not only a box-office smash that would go on to win Oscars for best picture, best director and best supporting actor for Hackman, it arguably revived Eastwood's career, the western genre in general and the slumping fortunes of the Alberta film industry in the 1990s.
Rubinek, like many who worked on the film, says his experiences on the Alberta set have never been matched in a long career that has included starring in films such as True Romance and The Contender and TV series such as Frasier.
The actor was cast as W. W. Beauchamp, a pulp-fiction writer who begins the film as the sidekick and official biographer of English Bob (Richard Harris), a dapper assassin prone to telling tall tales about his skills as a killer. Before shooting officially began, he approached Eastwood with some suggested changes to his character's attitude. His dialogue would remain exactly as Peoples wrote it, but he suggested Beauchamp should initially be more arrogant than skittish. Eastwood politely cut him off, emphasizing that Rubinek was "in charge of the department called W. W. Beauchamp." He told the actor to do whatever he thought was best and promised he would only interfere if he didn't understand the changes or disagreed with them. After all, that's why the director hired him in the first place.
Article content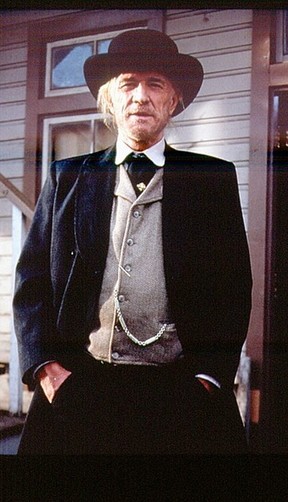 "That was early," Rubinek says. "As we were shooting, I would say that any of the other actors will tell you that they were never directed by Clint. He didn't direct actors. I never saw it. I never saw him say 'Could you slow that down? Could you speed it up? Could you put a comic twist on it? I think you overdid that a bit. Could you underplay that a little? Could you give me more energy?' None of that. Ever. There was no directing of acting. Zero."
It reflected Eastwood's philosophy, which Rubinek equates to a talented jazz pianist – another hat Eastwood wears – putting together an ensemble. He would choose the best musicians, but wouldn't micromanage how they play their instruments. That extended to the original screenwriter of the film. Peoples would go on to write 1982's Blade Runner and Terry Gilliam's 1995 sci-fi mind-twister 12 Monkeys with his wife Janet Peoples, but when he wrote the screenplay for Unforgiven in 1976 he wasn't a professional writer.
Article content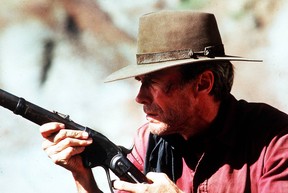 "I was working as a film editor and it was one of a bunch of scripts I wrote trying to become a screenwriter," Peoples says. "There was no immediate impact because I didn't have many readers. When I was working on Blade Runner, I believe Ridley Scott's reader read it but didn't have much use for it. It wasn't until Francis Ford Coppola picked it up in 1984. I had written it in 1976 so it had been written for a long time before Francis got involved and then Clint got involved after that."
Peoples was not thinking of Eastwood when he wrote the screenplay. But he was an admirer of some of the work Eastwood had done as a filmmaker, particularly his 1980 comedy-drama western Bronco Billy.
"When he got the script that became known as Unforgiven, I had some mixed feelings," he says. "I loved the stories that he told himself but I wasn't crazy about the stories he did for the studio so I didn't know what to expect. Obviously, I got a happy ending to that. I knew he could make a good story, I knew that right off. I was so glad that's what he chose to do."
Article content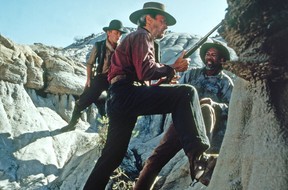 Peoples grew up watching John Ford and John Wayne westerns, but they were never his favourites. He drew more inspiration from off-beat examples of the genre such as the 1950 Gregory Peck film The Gunfighter, 1967's Will Penny and The Great Northfield, Minnesota and The Culpepper Cattle Co., two revisionist westerns that were both released in 1972.
Unforgiven has sparked plenty of discussion about its savvy dismantling of the myths and romance surrounding depictions of violence in Hollywood westerns. He may have been relatively inexperienced in writing screenplays at the time, but Peoples did set out with some specific goals. One of the key scenes in the film has Little Bill cheerfully setting Beauchamp straight about English Bob's tall tales and killing in general.
Article content
"There had been so many westerns out of Hollywood and one of the annoying cliches is the one about fast-draw stuff," Peoples says. "I didn't believe in that and I didn't want it in there. But in order to do that, I had to dismiss it from the audience's mind and let them know that wasn't one of the options, that fast-draw kind of stuff. So that led to some of that stuff because I simply had to make it clear there was no such thing. I wasn't thinking about westerns, I was thinking about this story and that the audience would have expectations based on westerns that you can just rip out a gun and shoot somebody and I don't believe in that world at all."
While deeper themes and a lasting legacy of Unforgiven would crystallize in the decades following its release, for members of the Alberta film industry the prospect of attracting a $50-million Clint Eastwood project simply seemed like a good way to return the province to its golden years of hosting high-profile westerns such as 1970's Little Big Man and 1978's Days of Heaven. By the 1990s, the sector had fallen on hard times, often limited to lower-grade TV films and series.
Article content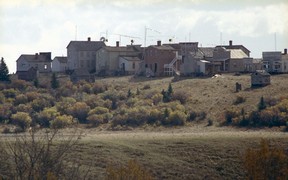 So, in the spring of 1991, a slickly organized day-long campaign was set up to whisk Eastwood, producer David Valdes and legendary production designer Henry Bumstead from a private air hangar in Calgary to the Badlands of Drumheller,  foothills near Longview, the mountainous backdrop of the Stoney Indian Reserve and dry earth near the town of Milk River. By the end of the day, the decision had been made to bring the film here.
"It was a serious downturn, we hadn't had a significant project for about six months," says Dean Goodine, who served as assistant prop master on the film and wrote about his experiences in his 2022 memoir, They Don't Pay Me To Say No: My Life in Film and Television Props. "The Gulf War was going on so we were at the point where we were thinking maybe we had to not be in the film industry anymore or relocate to Vancouver. We were really at the crossroads."
Article content
Goodine was only five years into his career at the time, but the teamwork and general calm and professional nature of Eastwood's set was something he carried with him for the rest of his career. Having it on the resume was a career boost and, from that point on, he often found himself fielding questions from directors, producers and other crew members about the set and how Eastwood worked.
It was Goodine's wife, set decorator Janice Blackie-Goodine, who was first invited to join the production after lunching with Henry Bumstead. It was her first western, so plenty of research was needed. For period details, she studied photos from the Glenbow Museum's archives before travelling to every antique store in Alberta in a five-tonne truck looking for items. Meanwhile, a team of carpenters spent three weeks building the fictional town of Big Whisky outside of Longview and a homestead for the Munny family near Brooks. Blackie-Goodine would end up sharing an Oscar nomination in 1992 for best art direction-set decoration with Bumstead.
Article content
It wasn't until the film came out a year later and began to build momentum as a critics' darling and box-office triumph that the full force of its impact was felt in Alberta, both for the personal careers of many involved and the industry in general.
"It gave us instant credibility," Goodine says. "Alberta at the time was going through a cycle. One year it would do a movie, the following year it would all be TV. What happened was, after Unforgiven, suddenly Legends of the Fall was scouting Alberta and ended up shooting in Alberta. Then you had Lonesome Dove: the Series. It was a residual effect. Then The Edge came because of the Rocky Mountains. For a while there, we were really riding the Unforgiven wave."
There have been ups and downs since then in Alberta's film industry. But it's safe to say the province has felt the lingering effects for decades. It's hard to imagine Unforgiven wasn't a calling card for producers of Legends of the Fall, Lonesome Dove, Open Range, The Revenant, The Assassination of Jesse James By the Coward Robert Ford, Shanghai Noon, the AMC Series Hell on Wheels and dozens of other western and period pieces.
Article content
Bumstead and Blackie-Goodine didn't end up winning the Oscar. But at the Governors Ball afterparty, the two were sitting together at a table and were approached by Hackman. The usually reserved actor, who had spent much of the shoot by himself in between scenes, quietly acknowledged that Unforgiven had been a team effort.
"Gene Hackman came over with his Oscar and put it on the table and said 'I just want to thank you all for helping me win this,' " Blackie-Goodine says. "People don't understand that the sets and the props help develop the character and help them become who they are meant to be in that character. That meant a lot to us."