"I'm still enjoying it, still laughing, still just happy to be out there. It's great to be associated with young athletes that are full of energy."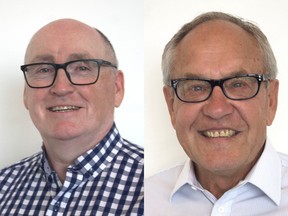 Article content
Brian Shalovelo began coaching softball when his sister didn't have anybody to coach her team.
Article content
Now, 46 years later, Shalovelo remains in the game.
Yes, he's still coaching.
Retired from the Saskatoon Police Service a little over a year ago, he hasn't retired from the game of softball.
On Wednesday, Shalovelo was among those introduced as 2022 Saskatoon Sports Hall of Fame inductees. Later that night, he could be found coaching his daughter's team, Saskatoon Synergy, in Division One women's league play.
"First and foremost, it's really an honour," Shalovelo of his upcoming induction. "When you take a look at the people there that you're going to be associated with in the Hall, it's a real honour."
Shalovelo is being joined by fellow inductees Ken Achs (drag racing), Mark Loehndorf (softball, football, wrestling), David Wassill (water skiing), Ron Friesen (diving), Tim Kroeker (baseball), Michael Linklater (basketball), Natalie Lukiw (volleyball), Cory Mantyka (football) as well as the University of Saskatchewan Huskies' 2005 track and field teams and the Saskatoon Hilltops as the sports organization of the year.
For Shalovelo, it all started because he stepped up to the plate early as a volunteer with his sister's team.
"If they didn't have a coach, they couldn't play," he recalled. "I said, 'ah, okay, I'll step up.' It's been a labour of love ever since. I'm still enjoying it, still laughing, still just happy to be out there. It's great to be associated with young athletes that are full of energy."
Shalovelo also spent 31 years as a hockey official but retired from that a while ago.
Article content
"Hockey-wise, I started when I was 10 years old to make a couple of extra bucks on an outdoor hockey rink dropping the puck for eight and nine year olds," said Shalovelo. "A few years later, I got a phone call, a last-minute kind of thing, to do a junior game and then it kind of took off from there. Between university and Sask. Junior and the Western Hockey League, it was absolutely fantastic."
Wassill a world-cailbre water-ski coach
Wassill, 67, is a former competitive water skier who has become an elite-level coach for adaptive water skiing featuring athletes with disabilities.
And his ascension was by accident.
"I was looking for an opportunity to get back into water skiing and the Saskatoon Water Skiing Club invited me out early in the spring and put the jump in," recalled Wassill. "At the same time, they brought in somebody from Florida to have a clinic and training for adaptive coaches. So I sat in on it with no intention of moving forward. Everybody left after and I was the only guy left, so I got the job."
That was back in 2003.
"Fortunately for Saskatchewan and Saskatoon, from the program, we populate the national team with anywhere from 50 to 80 per cent on a regular basis," noted Wassill. "We've got athletes who hold world records and a lot of athletes that have placed and got gold medals at world championships. A very successful program."
As an athlete, Wassill competed in jumping, tricks and slalom events. It was Wassill who would introduce future world championship medal-winning jumper Jim Clunie, a native of Tisdale, to water skiing back in the 19Da80s.
The news seems to be flying at us faster all the time. From COVID-19 updates to politics and crime and everything in between, it can be hard to keep up. With that in mind, the Saskatoon StarPhoenix has created an Afternoon Headlines newsletter that can be delivered daily to your inbox to help make sure you are up to date with the most vital news of the day. Click here to subscribe.